We're ready - Come on Wales!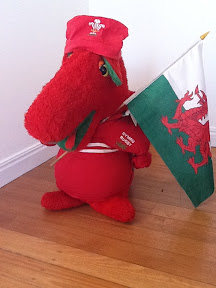 Taffy is all dressed up in Sibs' old rugby shirt and although he's breathing in for the photo it still looks a little tight around that tummy....a few too many welsh cakes I think!
This is a big weekend for Wales in terms of rugby...the boys have made it to the semi-final of the Rugby World Cup in New Zealand and we will be watching tonight. I'm missing all there is to miss about being home today...
Pob lwc Cymru, good luck Wales
-
Posted using BlogPress from my iPad