That was the week that was!
Busy, busy busy...
One minute it was Monday morning and the next I'm flying through Friday!
Anyhow, it's the weekend, and that starts with home made pizza and some chilled white NZ Sauv Blanc. Tonight we had some very special guests join us after tea....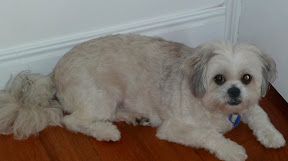 We're dog sitting for these two cuties. Sibs is in full charge and has a sheet of A4 paper filled with notes of what to do and when.
Big brother is in the top shot and little sister is below.
Our cats have escaped to hide in the linen cupboard upstairs well out of reach of little legged dogs! To be honest I don't think the dogs are too bothered - as I type this they are stretched out on the sofa snoring!
The Brisbane rain has been relentless today and looks set for the weekend, so I'm not sure what's going to happen when we get to point 22 on the instruction sheet - walkies!
Happy weekend,
-
Posted using BlogPress from my iPad