I have left the sunny state and ventured a few hours south to Victoria for a few days. Melbourne is a short plane journey from Brisbane yet it's such a different city.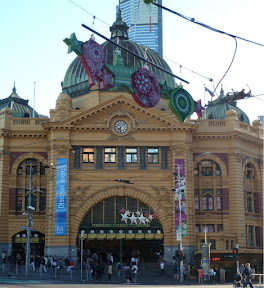 First of all it felt freezing when I landed. Well okay, not exactly freezing....just considerably colder. It's quite a jump from 27 to 15 degrees! Even though it's December and therefore Summer, people are still wearing boots and coats here. I have a feeling that my one and only packed cardigan will be well worn for the next few days!
Last night I went out for dinner in Federation Square and the restaurant had those gas heaters on - I wasn't expecting that.
I think Melbourne has quite a European feel to it and has some stunning architecture and buildings.
The city experienced tremendous growth during the Victorian gold rush from the 1850's onwards and the population swelled. This has continued and there are approximately 4 million people that now call the city home.
On one hand it appears to have maintained this great wealth with an array of top end designer shops, yet this evening I was asked for money by two rather disheveled individuals begging in the streets.
I don't necessarily venture into the city of Brisbane at night, but it does appear to go to sleep not long after the city commuters have left. Melbourne however is still bustling well into darkness. The streets are still busy, cafes are open and people are out and about. That's very European too.
So what else have I learnt about Melbourne?
Well, sport plays a big part in the life of Melburnians and everyone has a favourite team that they are passionate about - usually their local AFL team.
Black seems to be the colour of choice.
Women wear very high heels and men wear smart shoes that point up at the toes!
On a slightly more intellectual level - the city has the world's largest tram network, and is the second most populated city in Australia.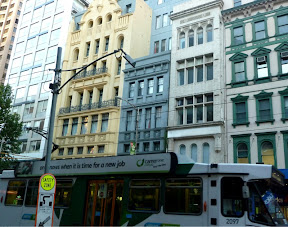 Even though Elton John and David Beckham are in town...I'm actually here to work. I have another full day tomorrow ending with dinner at the MCG (Melbourne Cricket Ground), so off to bed.
-
Posted using BlogPress from my iPad