Another day here at the beach...not doing much but enjoying the tranquility.
The sun has been shining and we've had a lovely time lounging by the pool and walking by the ocean. Sun kissed shoulders have now been washed free of suncream and the sand has been rinsed.
You know that feeling of a good day spent outdoors when your body feels warm and relaxed? That's how we feel having spent a couple of days here. Even the sand that seemed to find its way into my eyebrows was okay...just!
Sibs has been fitting in a couple of hours of school work between having fun.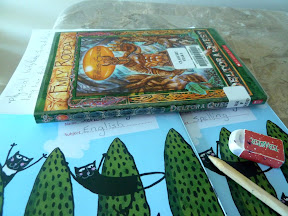 Then we spent the morning dipping in and out of the pool and reading.
We wandered out for a coffee and then had an evening beach stroll before dinner.
I could really get used to this...
Tomorrow we are venturing out to see a few sights. All this relaxing has to stop!
-
Posted using BlogPress from my iPad