This is just a quick round up of the day - all this sea air is making me tired and this night owl is having an early night tonight.
No, I haven't trapped Sibs in a box, this is just one of the things we got up to this afternoon.
After the usual morning dip we headed off a few kilometres down the road to a more populated area of the Gold Coast.
Our destination was Surfer's Paradise and the Ripley Believe it or not museum.
Surfer's is much busier and filled with tourists and tourist type things and tourist type shops. There are take away and fast food places next to souvenir kiosks and then the odd Versace or Louis Vuitton shop This was my first visit and umm, let's just say I won't be rushing back...well not to the town centre anyway.
Anyhow, today was a day for Sibs to decide what we were doing and after much negotiating and compromising we settled on the Ripley Believe it or not museum. I had heard a little about this man Ripley and some of his findings and the museum sounded a bit of fun.
There's lots of wax models of the largest and smallest examples of things with a few gory things thrown in. Some of the displays and exhibits are interactive and there were a few screams and giggles along the way when the unexpected happened. The dance and light studio was a highlight for Sibs and we could have spent the afternoon in this spot.
It was a good way to spend a couple of hours during the hot part of the day, and a perfect place if you're nine.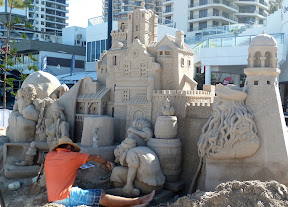 Down on the beach front there were some sand sculptures with a pirate theme. Such detail.
Of course my mini break post wouldn't be complete without the daily shot of the ocean.
Have a great weekend, whether it's sun or snow.
-
Posted using BlogPress from my iPad